一、产品介绍(Introduction):
随着电源的高频化和大功率发展趋势,对高频电源电磁转换的核心部件功率变压器也提出了更高的设计要求,大功率高频变压器铁芯必须满足高频低损耗、小体积、高能效转换效率和尺寸可定制化的要求,目前大功率高频电源市场上大量采用硅钢等材料做变压器,带来的问题主要是损耗大、温升高、高温转换效率低等,影响了电路的电磁兼容和正常谐振工作状态;近几年纳米晶不断迭代更新,大力发展超薄带应对高频化的发展趋势,基本可以满足100kHz以内的高频变压器设计需求,纳米晶软磁合金材料具有高饱和磁感、低损耗、满足大功率尺寸定制化设计和高温运行可靠性等优点,受到了国内外高频电源领域的设计工程师的青睐和好评。纳米晶矩形和C型铁芯现已广泛应用于电动机车牵引/辅助电源、直流变流器、静电除尘电源等工业领域
With the high frequency and power development trend of the power supply, the core components of the high frequency power supply put forward higher design requirements. The high-power transformer core must meet the demand of high frequency, low loss, small volume, high energy conversion efficiency, and the core size should be customized. At present, a large number of materials such as silicon steel are used as transformers in the high-power high-frequency power supply market. The problems are mainly caused by large loss, high temperature rise, low temperature conversion efficiency, etc. In recent years, nanocrystalline ribbon products have been iteratively updated, and the development trend of ultra-thin ribbons to cope with high-frequency development has been vigorously developed, which can basically meet the design requirements of high-frequency transformers within 100 kHz. Nanocrystalline soft magnetic alloy materials have high saturation magnetic induction, low loss, high power size customization design and high temperature operation reliability. Nanocrystalline rectangular and C-typed cores are now widely used in industrial fields such as traction/auxiliary power supplies for electric vehicles, DC converters, and electrostatic precipitators.
二、产品特点(Characteristic):
—低损耗 Low Core Loss
纳米晶C型铁芯与其他磁性金属材料制成的铁芯相比具有更低的损耗。
Nanocrystalline C-Cores have much lower core loss than those made of other magnetic metallic materials.
—小体积 Small Volume
由于纳米晶材料具有高的饱和磁密(Bs=1.25T)和低损耗特性,纳米晶C型铁芯可设定在高磁通密度下工作,满足小型化设计。
Nanocrystalline C-Cores allow designing applications with high operation flux density due to high saturation fluxdensity (Bs=1.25T) and lower loss property,meeting miniaturization design.
—高耐热性 High Operation Temperature
纳米晶C型铁芯可以在F级绝缘等级(155℃)下工作。
Nanocrystalline C-Cores can be used in class F insulation grade(155℃).
使用温度范围:-20~+155℃(包含自身温升)
Operating temperature: -20~+155℃(including self temperature rise)
三、产品应用(Application):
·工业电源:X射线CT高频变压器、感应加热设备、焊接机、通信设备、静电除尘电源、ESP等
Industrial Power:High frequency transformers for X-ray CT, induction heating apparatus, welding machine, communication equipment, electrostatic precipitators and its power supply, etc.
·新能源:光伏、风力发电机、燃料电池中的功率调节器
New Energy:Inductors (choke coils) for power conditioner of photovoltaic, wind power generator, fuel cell.
·电动汽车和5G通讯:混合动力汽车、燃料电池汽车、转换器、UPS等中的升/降压转换器
EV & 5G:Inductors for boost/down converter of HEV, FCV, UPS,etc.
四、磁性能(Magnetic Energy):
1.不同切割铁芯的直流叠加特性 DC superposition characteristics of various cut cores: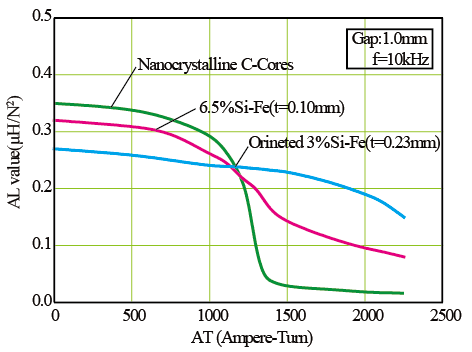 2.不同切割铁芯的损耗特性 Core Loss of various cut cores:

备注:上述数据基于CNC139110024025铁芯形状测试。
Note:These datashows value of the shape corresponding to CNC139110024025.