Advanced Technology & Materials Co.,Ltd (AT&M) has a long historical standing and is one of the world leading manufacturer in R&D and production of NdFeB magnets in China. AT&M was honored with one state invention awards(the third grade), two state awards for science and technology advancement (the first grade and the second grade), as well as 25 patents.

AT&M achieved the certification of ISO9001 in Nov 2003; ISO14000&OHSAS18000 in Oct 2006; ISO/TS16949 in Aug 2007, held the manufacture license and sold sintered NdFeB magnets under SSMC (NEOMAX) patents in 2003. Nowadays, AT&M has a production capacity of 4000 tons for NdFeB magnets with middle or higher grade annually.
Description of Grades for the Sintered NdFeB Magnets:
· Nd-Fe-B magnet--------ATMAX##XX
· ATMAX: The magnet produced by AT&M Co.,Ltd.
##: The typical value of (BH)m.
X X: The typical value of intrinsic coercive force.
For example: ATMAX40H is a sintered NdFeB magnet with (BH)m of 38~41MGOe, and Hcj≥17kOe.
Physical Properties Of Sintered NdFeb Material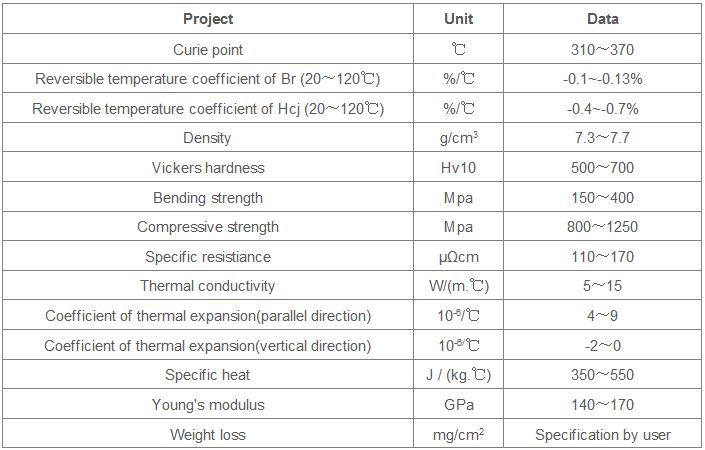 Physical Properties and Application to Environment of the Coating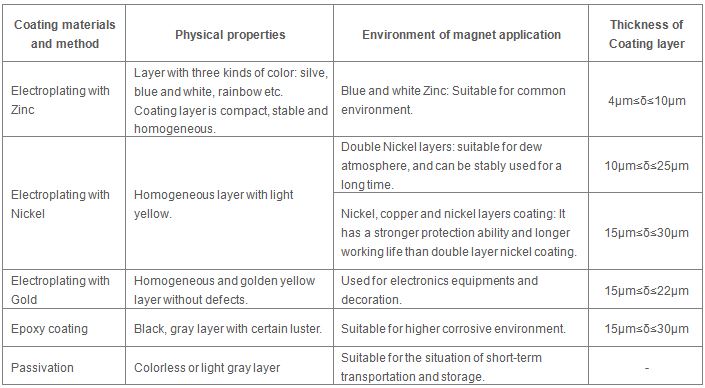 NdFeB Magnet Machining And Service:
· All kinds of shapes of magnets can be supplied after grinding, electric wire spark cutting, mechanical drilling and cutting, and other methods.
· All kinds of magnets with coating can be supplied, such as electric coating, electroplating and phosphorizing and so on. It is guaranteed that the product will have a good appearance and anti-corrosion characteristics.
· The magnet can be magnetized in single, multi and radial directions.
· According to the needs of customers, magnet can be aged, demagnetized, re-magnetized after demagnetization.
· The chemical compositions of raw materials and magnets can be analyzed by ICP. The magnet microstructure can be observed by microscope and magnetic powder size distribution measured by the Laser Particle Size Analyzer. The magnetic properties can be tested by means of B-H tester at both ambient and high temperatures.
· The coating layer can be analyzed by means of SST, PCT, HHT, dropping and layer thickness tester.
· The magnetic circuit analysis and design can be offered for customer.
· Magnets with special characteristics are also available at the request of customers.